How big is the Riga FC army of fans?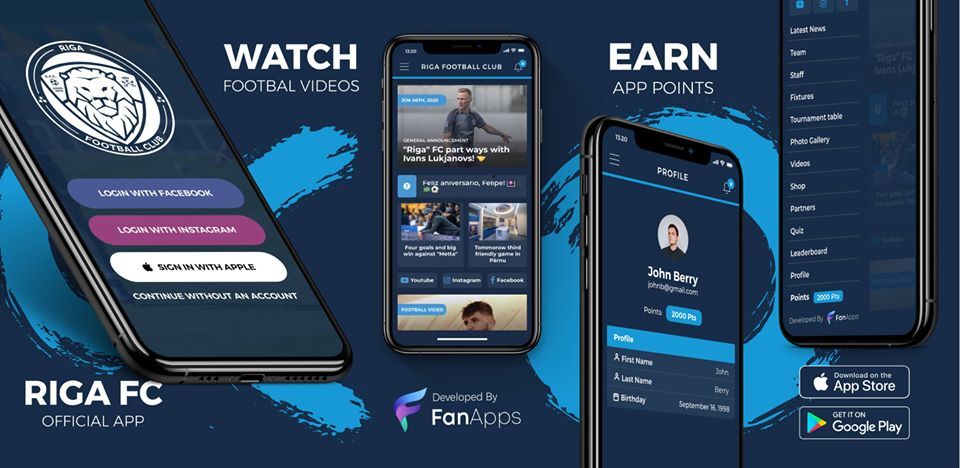 Riga FC the 2019 Latvian Higher League champion, in preparing for a new season, has developed a mobile application for distanced communications with fans.  This unique mobile tool effectively and in a modern way delivers all new information and unique content to passionate supporters, while also involving them in quizzes about the history of the team and its players.
How big is the Riga FC army of fans?
Riga FC public relations director Krišs Upenieks:  Fan army is not a very good description.  Fans, supporters, and ordinary viewers are in the stands.  The mentality of Latvians is such that some supporters are shy fans or viewers.  This claim, though, is overturned by last year's European league game against the Scandinavian super team "Kobenhavn."  We scored a goal, 1:0, and the stadium exploded.  At the end of the match, everyone stood up and yelled the name of our club.  7,000 fans did that.  It had been a long time since such emotions and atmosphere ruled a football stadium.  It was a game which showed the potential of football in Latvia.  Social networks play an enormous role today for organisations and individuals.  When I saw an enormous number of photos and video stories on my feed, I understood that our team had achieved something grand.  Football was unquestionably the king of Latvia that evening.  We can even say that it was stylish to attend the game because I think that there were a lot of people who visited the Skonto Stadium for the very first time.  During the European Cup, we understood how important this was for the audience.  Football presented by the Riga Football Club at that time was at the European level, and the audience grasped that fact.  One reason why the players perhaps ran faster, jumped higher, and kicked the ball more strongly than before was that the fans had gathered there.  That is why we increasingly insist that fans are a part of our team, an important part.  The app is another step which the team is taking toward them.  We hope that the army that you mentioned will grow even larger.  That basically happens every year, but there is still room for growth.  I am sure that together with our fans, we will achieve ever new heights.
Which three of the functions in this app do you think are the most important ones, and which ones might excite fans to the greatest degree?
It would be very hard to name three functions that will be the most exciting or important for our fans.  I think that the exciting and essential ones are in two different categories.  Basic elements, of course, are important for our fans — the calendar, the tournament schedule, news, and other materials produced by our team such as photo galleries and videos.  Another factor here is differentiating between local fans and foreigners.  Each year we experience more interest among foreign fans, and that says something about the work that we are doing.  The fan store will be key to these people because each month we are sending more and more swag to foreign countries.  What else could be exciting?  The quizzes have potential because we have shown in the past that we are a team which likes to delight fans with impressive prizes.  The quiz section will be an outstanding platform for organising long-term competitions.  The QR code is also important in that it will offer various discounts so that we can increase the number of users.  The main and long-term app users with a QR code will be able to purchase tickets to our games for half-price.  The job for our communications team is to make sure that the application allows people to find the most important information while also enjoying things that perhaps push the envelope a little bit.
The Riga FC mobile app was developed in partnership with @FanApps
Download the Riga FC mobile app to track the championship:
@FanApps develops and maintains mobile applications for sports organisations.  The new apps are based on an accessible and convenient data and content management system, which makes easier, distanced communications with passionate fans.  
Contact @FanApps for consultations.